Series featured:
"American Horror Story"
The rug has been pulled from under us in tonight's episode of AHS: 1984. The big twist—at this point a staple in every season of the series—happened interestingly on the 100th episode of American Horror Story. I won't detail here the circus that went down, but if you're keen on getting caught up read this.
While doing the press rounds for such an important milestone, Ryan Murphy has sat down with Entertainment Weekly. There he shared his ranking of the best American Horror Story episodes ever, taking one episode from each season.
Here's the full list of the best American Horror Story episodes, straight from the mouth of its creator, Ryan Murphy.
"Pilot", Murder House
"The Name Game", Asylum
"Checking In", Hotel
"Return to Murder House", Apocalypse
"Monsters Among Us", Freak Show
"Great Again", Cult
"The Magical Death of Stevie Nicks", Coven
"Red Dawn", 1984
"Chapter Six", Roanoke
It isn't all that surprising to see the very first episode of the show sitting atop his list. The cold-blooded opening and the moody, exacting chiller of a story that followed are treasured artifacts of horror television. The rest of the episodes make sense, too, including Asylum's "The Name Game", which gave us this golden moment to replay over and over.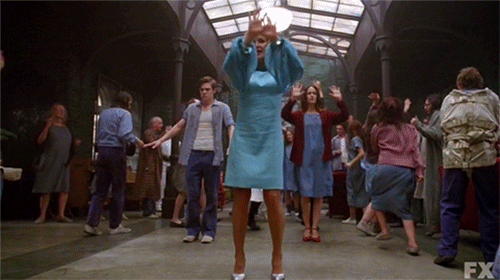 Murphy has been a prolific stakeholder of modern television. He has a number of ongoing shows, such as American Crime Story and Pose. His recent foray into Netflix programming, The Politician, although met with reservations, comes with a handful of confirmed follow-up seasons.
As for American Horror Story, it remains one of the most popular television shows ever. In fact, FX seems to have their hands deep in it that they want two more seasons after its currently-running ninth season, 1984.
Watch the trailer for AHS: 1984 below: